Welcome to Samares Engineering
Wikipedia mentions that a Samara is a type of fruit with a shape like a wing that enables the wind to carry the seed farther away than regular seeds from the parent tree.
Like samara, Samares Engineering intends to act as a spreading actor of best system engineering practices amongst industrial domains. We try to behave as a set of seeds flying between research, education and industry in order to encourage and widespread promising results.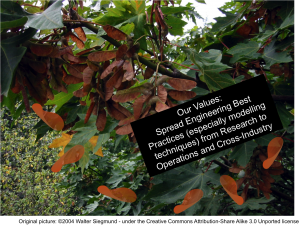 At Samares Engineering, we are convinced that intensive usage of models can bring many benefits for system engineers. For instance, with formalizing textual requirements we accelerate maturity of specification because we can detect errors, ambiguities and inconsistencies earlier in the cycle than with "traditional" document approach.
Modeling language forces us to fully understand the requirement so that we can translate it the right way. We can not escape issues and misunderstandings are immediately revealed.
By using models instead of documents along with the development and maintenance cycles, any company can reduce time to market and maintenance cost because maturity can be achieved with less development cycles and each cycle is shorter. We support our clients  turning this promise into reality. Look at expertise for first details and contact us if you wish to know more.