The Capella Skills center is composed of several MBSE Engineers and is leaded by Senior MBSE Engineer Sébastien Dubé who has experience of ARCADIA/CAPELLA operational deployment for industrial project.
Samares-Engineering has also been an active contributor for the building of the AIDA case study developped at IRT St-Exupery.
The Samares-Engineering Capella skills center has developed its own case study to support Capella Services, support and training offer.
This case study is based on a Health Agriculture Unmanned Aircraft Vehicle (HAUAV)  application dedicated to spray aquaeus solution on field crops to protect against pathogens.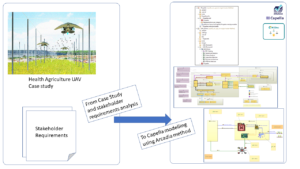 Samares-Engineering provides a 6 modules training for Practical MBSE approach with Arcadia method and Capella Tool.
For more details, see training section.
Samares-Engineering provides coaching for capella and Arcadia and deployment support services including:
Support Workshops on customer case studies
Specific Development of M2Doc generators for documents generation
Development of Specific Guidelines and modeling rules tuned for specific customer usage
Support and customization of specific properties values dedicated to Customer process and specificities
Provides Samares experience and feedback about field's deployment of MBSE method in industrial companies